Academic Profile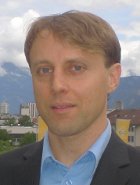 Prof Dr Albert Weichselbraun
Dipl.-Ing. Mag. Dr. habil.
Swiss Institute for Information Research
University of Applied Sciences of the Grisons
Pulvermühlestrasse 57, 7000 Chur, Switzerland
(p) +41 81 286 3 727
(e) albert.weichselbraun@fhgr.ch


Short Bio

Albert Weichselbraun is Professor of Information Science at the University of Applied Sciences of the Grisons. Prior to this appointment, he was an Associate Professor at the Vienna University of Economics and Business and a Visiting Research Fellow at the University of Western Australia.
Prof Weichselbraun completed Master degrees in Economics and Chemical Engineering and his doctoral research at the University of Economics and Business. His doctoral thesis focuses on ontology-based text classification. In 2004, he joined the University of Western Australia as a Visiting Research Fellow, where he developed methods for aggregating and processing unstructured textual data with a special focus on the analytical methods involved. This work resulted in the creation of an ontology learning framework that has been instrumental for future projects. Prof Weichselbraun co-authored research proposals on a national and European level, served as the technical project leader of a number of successfully completed research projects, and is co-founder and technical director of the webLyzard technology gmbh, a commercial spin-off that delivers state of the art Web Monitoring and Web Intelligence solutions to its customers.
His habilitation thesis focuses on "Automated Structuring and Analysis of Electronic Content through Ontologies and Semantic Methods" and combines work on database systems and knowledge repositories with methods from the fields of data mining, natural language processing, information retrieval, and Web intelligence. Prof Weichselbraun currently guides the development of the webLyzard Web Intelligence platform and is actively involved in national and European projects that build upon this platform such as the Swiss Media Criticism project, supported by the Swiss National Science Foundation (SNSF) and the IMAGINE, DISCOVER and Job-Cockpit projects, funded by the Commission for Technology and Innovation (CTI) of the Swiss Federal Department of Economic Affairs.
Research Interests

Data and Knowledge Engineering
Data Mining and Natural Language Processing
Information Retrieval
Media Monitoring and Web Intelligence
Semantic Web and Semantic Technologies
Further Information